For helipads, S4GA offers Portable Helipad Lighting Kit compliant with ICAO requirements. The Kit allows to illuminate temporary helipad within few minutes.

10 KM VISIBILITY RANGE

25 HOURS OF AUTONOMY

NVG-COMPATIBLE
PORTABLE HELIPAD LIGHTING KIT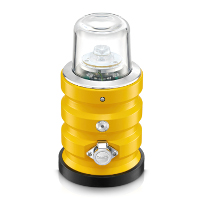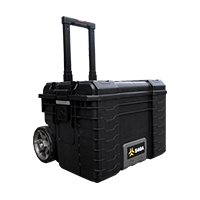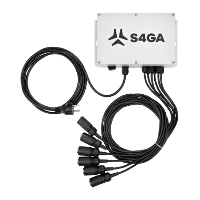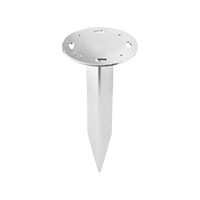 6X
MOUNTINGS
TYPICAL APPLICATIONS
Portable helipad lighting
Portable heliport lighting
Temporary landing zone lights
Portable landing zone lights
Emergency landing lights
APPLICABLE FOR DIFFERENT SURFACES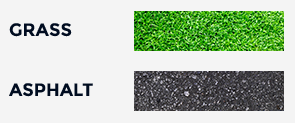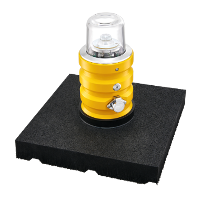 CONVERTABLE TO SOLAR
SP-102 battery-powered portable helipad light can be easily converted to a self-contained solar-powered light by adding 5W solar panel.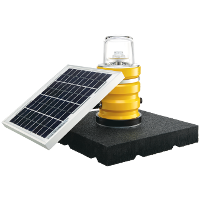 PROTECTIVE CASES FOR HELIPAD LIGHTS
CASE FOR SP-102 LIGHTS
6 x SP-102 portable helipad lights
Shock absorbent
Lockable system
Handle and wheels for easy
transportation
Rigid design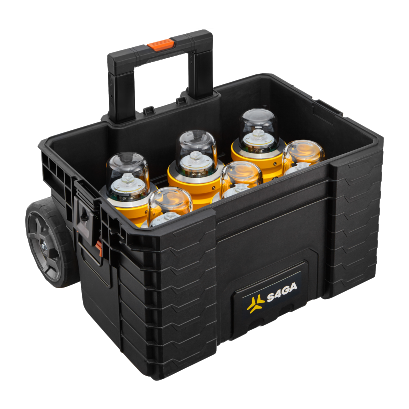 CASE FOR ACCESORIES
1 x built-in OCT-102 Charger
Charging time: 8 hrs
6 x mountings for grass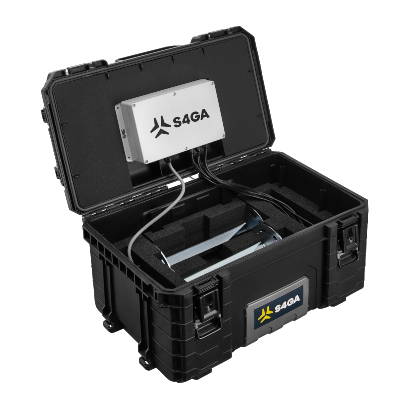 PORTABLE HELIPAD LIGHTING YOU CAN RELY ON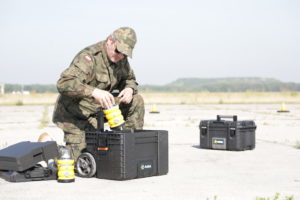 Our customers choose S4GA helipad lighting when it is required secure critical infrastructure for night operations. S4GA helipad lights are ICAO and FAA compliant. It is an ideal solution to illuminate temporary landing zones for rotary-wing aircrafts and helicopters. S4GA LED helipad lights are safely contained in a secured lockable case which allows to transport lights anywhere. If you require mobile lights that can be deployed in minutes or if you are going to use lighting occasionally – S4GA portable helipad lighting will definitely meet your needs.
ICAO & FAA Compliance of S4GA Portable Heliport LIghts
SP-102 helipad light is fully compliant with ICAO and FAA requirements for portable helipad lighting. What it means for S4GA customers? Light output is precisely regulated in order to provide best-in-class visibility range and to avoid dazzling pilot. Why? Thanks to dedicated optics that focuses light output only within certain angels.
Another important aspect is the chromaticity of the light. Chromaticity defines color emitted by the lighting unit. Incorrect chromaticity may easily confuse pilot on final approach.
HELIPORT LIGHTING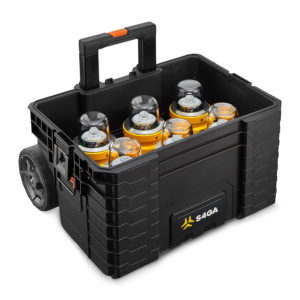 A heliport is a small area of land, water or structure (e.g. roof of the building, area at offshore mining station) that is used for landing and takeoffs of helicopters. Heliports can be of different sizes, having asphalt surface or grass surface, and equipped with heliport lighting system.
There are two types of heliport lighting: fixed or permanent heliport lighting system and portable heliport lights. Both types of lights should meet specific aeronautical standards.
HELIPAD LIGHTING
Helipad is another name of heliport. Helipads are often located in hard-to-reach places. Alaska, the Brazilian Amazon or a skyscraper in the middle of a large city – these are just a few examples of places a helipad can be situated at. If a helipad is meant for night operation, it needs to be properly illuminated with helipad lighting.
HELICOPTER LANDING ZONE LIGHTS
Landing zone (LZ) or landing point is another name for temporary helipad which is often used in military. This is is an area where helicopter or aircraft can land.  Helicopter landing zones are marked by either coloured smoke or helipad landing zone lights.
HELIPAD ZONES
From a birds-eye-view, you will first notice two designated areas – FATO and TLOF. FATO refers to Final Approach and Take-off area. TLOF refers to Touchdown and Liftoff area. Both these areas can be in the shape of a circle, square or rectangle. The TLOF area is placed inside the FATO zone.
NIGHT OPERATION LIGHTS
Not each and every helipad is equipped with a full set of lights. But, if a helipad carries out night operation, it must be equipped with basic lights. They include FATO and TLOF lights, wind direction indicator lights, taxiway lights and landing direction indicator lights.
TLOF PORTABLE LIGHTS
Green lights are used for TLOF lighting. They give out an omnidirectional light. LED lights are used because they provide the right light chromaticity and intensity. They are also utterly durable – up to 100 000 hours of work!
WHAT LIGHT IS USED TO MARK THE FATO ZONE?
The FATO zone is marked with white, omnidirectional lights. LED lightbulbs are used as they provide not only long durability but also the right, required by regulations intensity and chromaticity.
HELIPAD PORTABLE LIGHTING'S WORK MODES
Helipad portable lighting provides the following work modes:
Flashing light (30, 60 or 120 flashes per minute),
Constant light (steady light),
Varied-intensity light (low, medium and high),
An automatic dusk-till-dawn mode,
Night Vision goggles compatibility mode.