For Airports located in remote regions with limited access to electrical infrastructure and with high photovoltaic potential, we offer a complete solar airfield lighting system compliant with ICAO standards and certified by INTERTEK.

WORLD'SSAFEST RUNWAY LIGHTING

OPERATES 365 DAYS
ON SOLAR
5-LEVEL PROTECTION AGAINST SYSTEM FAILURE
COMPLETE SOLAR AIRFIELD LIGHTING
Solar Runway & Taxiway Lighting, Solar Approach System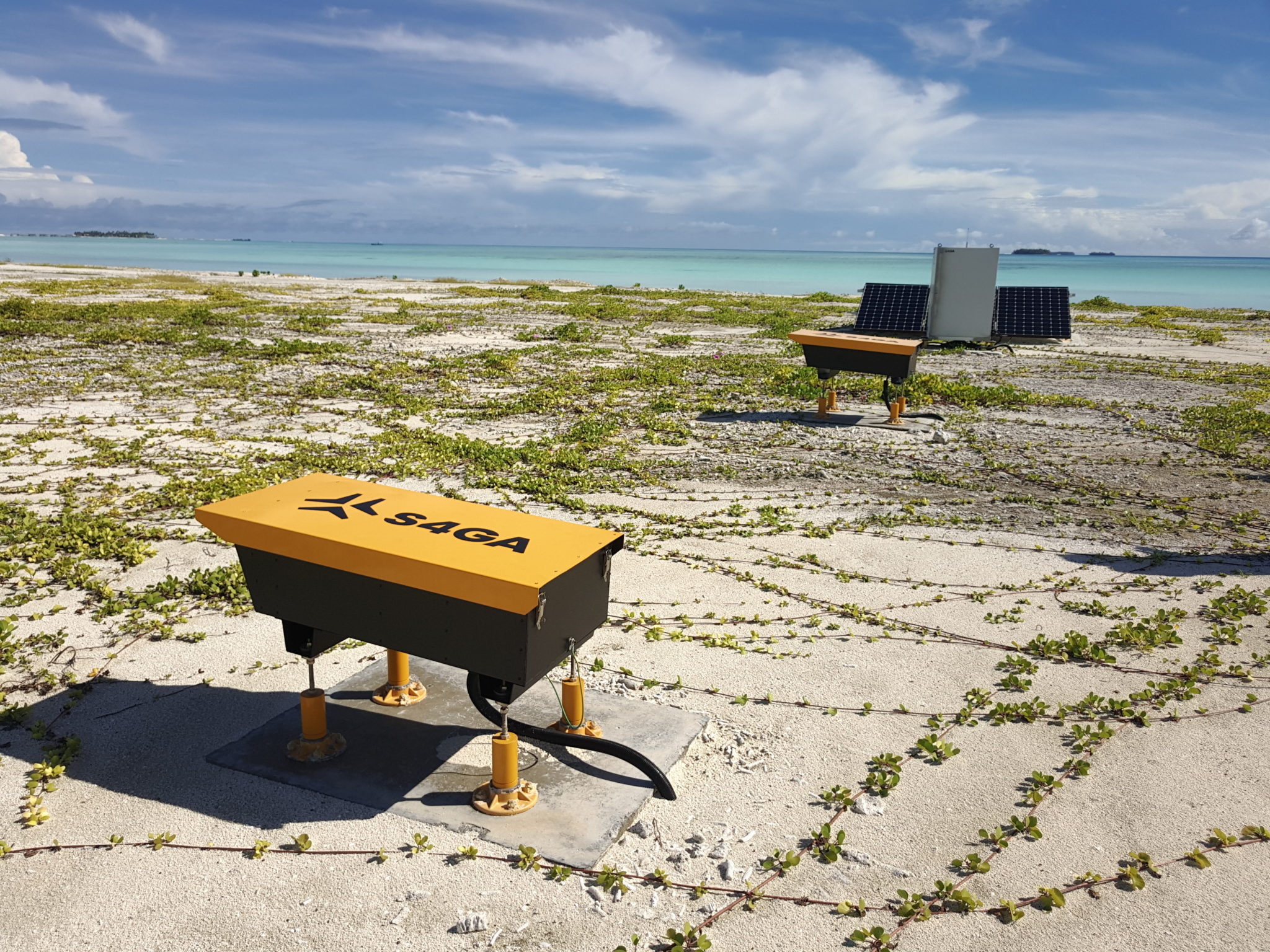 Solar PAPI Lights, illuminated Solar Wind Direction Indicators, illuminated Solar-Powered Airport Signs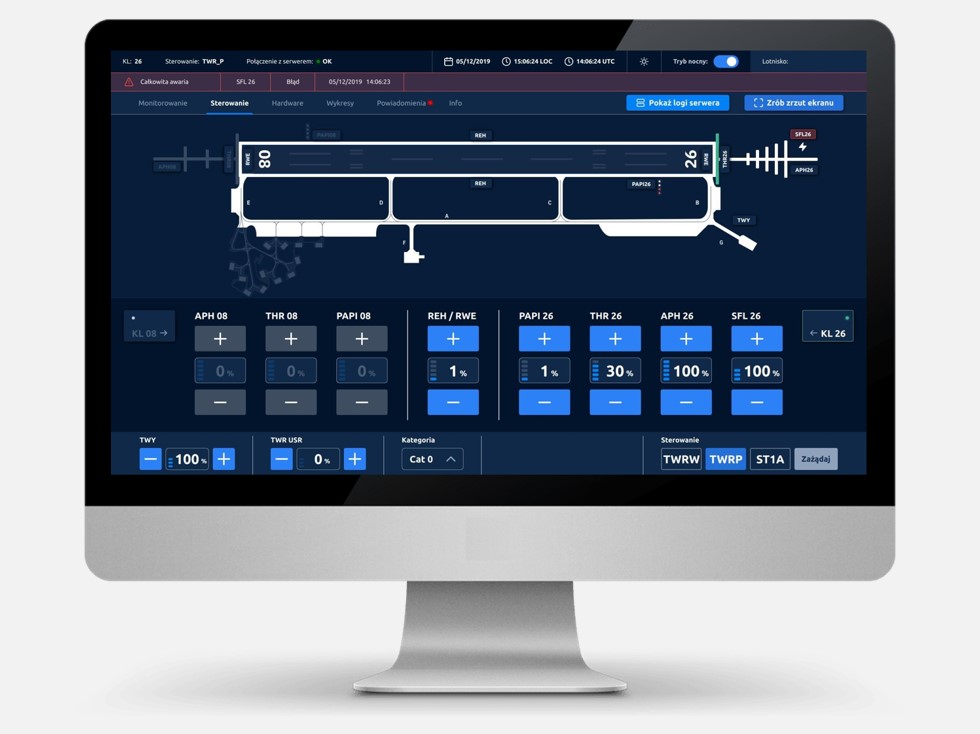 Remote radio control of Volume System Airfield Lighting via ALCMS with Individual Light Monitoring
WHERE CAN THE SOLUTION BE APPLIED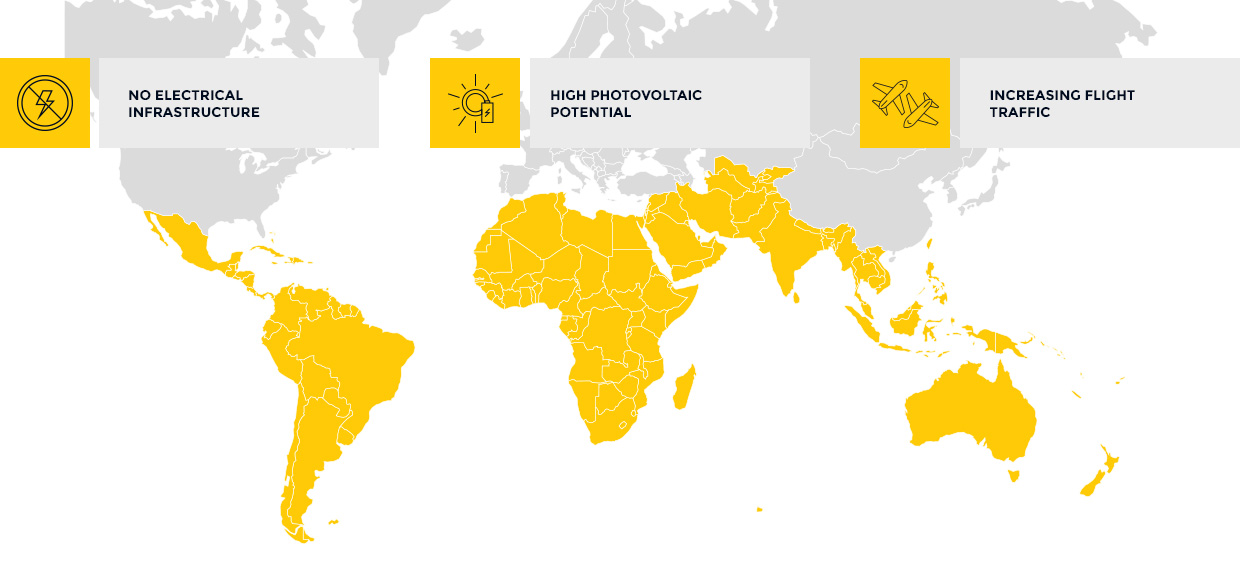 Volume System solar airfield lighting is designed for regional airports and domestic airports located in regions with limited access to electrical infrastructure, high photovoltaic potential, and increasing flight traffic.
In locations with limited or unavailable electrical sources – African desert or remote islands – it is inefficient or even impossible to use hard-wired runway lighting. For airports located in such regions, alternative solutions are used – diesel generators or solar power supply. Volume System solar runway lights are powered by solar energy and do not require any electrical grid or backup power sources. Every lighting unit in the system is an independent unit in terms of power supply. It is equipped with 2 x built-in batteries powered by solar panel connected to the lighting unit.
At airports located in regions with high photovoltaic potential, Volume System solar powered LED runway lights will secure night operations 365 days in a year. How does it work? Every SP-401 runway light is equipped with energy efficient LED optics that consumes energy when the light is turned
solar panel that generates energy during the day; and built-in power bank that stores produced energy.
In highlighted locations, SP-401 lighting unit will produce more energy than it consumes – even in winter when sun activity is minimum. Learn more at our website HOW CAN AIRPORT OPERATE 365 DAYS ON SOLAR ?
In recent years, tourist flow to remote places has increased dramatically. For local airports, it means increasing flight traffic and start of night operations. However, traditional electrical runway lighting is not a good solution – it's expensive and requires further investments and appropriate skills in maintenance. Usually, local airport authority does not have enough finances to support that. S4GA solar airfield lighting system costs 3-5x less and maintenance is close to ZERO. 90% of potential system malfunctions can be fixed by airport personnel. Moreover, with S4GA solar AGL airport can start night operations after 3-4 months from purchase; in comparison, installation and commissioning of hard-wired runway lighting can last even years.
SOLAR RUNWAY LIGHTING FOR REGIONAL AND DOMESTIC AIRPORTS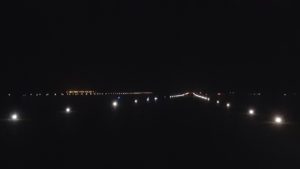 Solar runway lighting is the best solution for airports located in remote areas with NO access to electrical infrastructure and high photovoltaic potential. It is related to remote islands of Southeast Asia, safari in Africa or mountains in Nepal – extremely popular destinations among tourists all over the World. Regional and domestic airports in these regions are servicing local airlines which transfer people from international airport to local destinations.
Because of poor electrical infrastructure and remote location, it is very expensive and difficult to install traditional hard-wired runway lighting system for such airport. Besides, airfield lighting projects are usually underfinanced for such regions. Installation of hard-wired runway lighting exceeds the budget in most cases.
For such airports, solar runway lighting is the best (actually, only available) option. It costs one-third of hard-wired AGL. Maintenance of solar runway lights is less than 5% of total system cost – which is fraction comparing to maintenance of airfield ground lighting powered by 6.6A electrical grid. Why? Solar runway lighting does not require cables, CCRs and transformers. It is powered by solar panels. Every light is connected to individual solar panel. Control over the lights is performed by wireless mesh network (again NO cables).
5-LEVEL PROTECTION AGAINST SYSTEM FAILURE
S4GA solar airport lighting has as many as 5 levels of protection against critical failures of airfield lights – which makes S4GA AGL World's Safest Runway Lighting. Learn more about 5 levels HERE.
RUNWAY LIGHTS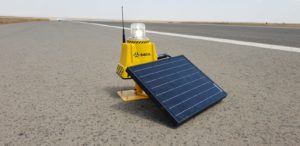 Runway is the key element of an airfield. Thus, runway is marked by different types of runway lights. There are runway edge lights, threshold lights, runway end lights, runway end identification lights and other types of lights. Every type of runway lights is of different color and intensity.
SOLAR RUNWAY LIGHTS
Solar runway lights are airfield lights powered by solar energy. S4GA solar runway lights are equipped with separately installed solar panels, optimally tilted for maximum energy collection. Solar runway lights are much easier in installation and maintenance rather than traditional hard-wired runway lights powered by 6.6A electrical grid. This is achieved due to the fact that solar runway lighting does not have cables, CCRs, transformers in its structure. Solar runway lighting system consists of lighting units and solar panels connected to the lights. Communication and control in solar runway lighting system is performed by wireless mesh network.
SOLAR AIRFIELD LIGHTING
Solar airfield lighting is another wording for solar runway lighting. The complete airfield lighting system includes not only runway lights, but taxiway lights, apron floodlights, obstruction lights, PAPI light (precision approach path indicators), runway approach light, and even illuminated windsock.
PAPI SYSTEM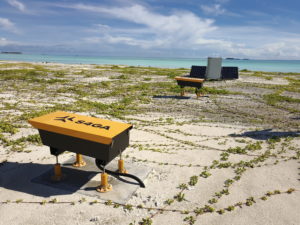 PAPI (precision approach path indicator) informs a pilot about their location in relation to the approach path. PAPI system consists of few lighting units (4 x units for full PAPI and 2 units for A-PAPI) located on both sides of a runway. They are calibrated so that a pilot can see the color which depends on the location in relation to the approach path. If all lights are red, it means pilot is loo low; if half of lights are white, half are red it means the pilot is on the correct path; if all lights are white, it means pilot is too high. A
WIND DIRECTION INDICATOR
Wind direction indicator (or WDI, airport windsock) is an element at airfield lighting that provides airport personnel as well as pilots with information about wind direction and wind speed. Wind direction indicator consists of a windsock mounted on a mast. The height of a mast and the color of the windsock can vary. Windsock can be colored in red, red/white, white, or orange. WDI can be also illuminated with internal or external obstruction light which makes windcone visible at night.
TAXIWAY LIGHTING
Taxiway is a part of airfield where aircraft follows after reaching runway. Taxiway is illuminated with blue taxiway edge lights. Other types lights installed on a taxiway are green centerline lights, yellow flashing clearance bar lights, and red stop bar lights.
APRON LIGHTING
An apron is an area that does not belong to the movement area of an airport. Therefore, apron is more accessible for airport personnel rather than runway or taxiway. Apron is marked with either blue aviation lights – the same as taxiway – or white lights. Airport operations taking place at apron includes aircraft parking, luggage loading and unloading, fuelling, security check, etc.
ALCMS AIRFIELD LIGHTING CONTROL & MONITORING SYSTEM
Airfield lighting control and monitoring system allows remote operating of airfield lighting from Airport Tower. With solar runway lighting system, individual light monitoring is possible. If any particular light stops working (crashed, taken out of runway or discharged), airport personnel will be immediately notified by SMS and by an appropriate message on the screen.
ALCMS allows activation and deactivation of entire airfield lighting as well as separate groups of lights. Besides, the brighteness level for each particular group of lights can be set up. It is possible to turn on solar runway lighting system from the air if using ALCMS. Even more – authorized airport operators can activate the lights from the cell phone.