Volume system Wetlands Wailer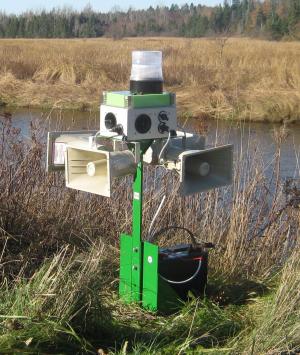 The Volume Wailer Mk IV and Mk V have been designed for use in areas where cables and remote speakers and cables are a nuisance (although 2 outlets are available for remote speaker connections if required).
This unit incorporates the use of the same Super-horn Speakers used in the Airport Wailer system. These speakers will throw the natural sounds in a circle of sound with a radius of at least 1000 feet (305M). The harsh electronic sounds can be thrown up to 3000 feet.
A powerful strobe-light is mounted on top. It is particularly effective to deter ducks and geese, which often flight in at night. It only flashes as the sound sequences are emitted.
The Wetlands Wailer is for use around tailings ponds, marshy areas, coastal zones etc.
This system has also been adapted for other situations where cables and remote speakers are also a nuisance, such as fruit farms, grain crops, low-bush blueberries, airports etc.